This blog is filled with practical advice and insights on overcoming challenges, achieving your dreams, and creating your own successful business or career.
"It's the little details that are vital. Little things make big things happen." ― John Wooden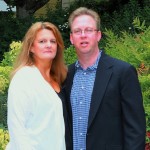 I was born in Brooklyn, New York and currently live in Myrtle Beach, South Carolina with my wife Karen.  I am a entrepreneur, author, Adjunct Professor of Marketing at Coastal Carolina University, and occasional public speaker & Coach (when time permits).   I am perhaps best known for being the president of Sears Holdings' (SHLD) ServiceLive.com and co-founding a tech startup which became part or Oracles' (ORCL)  Venture fund.   Karen and I, wrote the #1 International Amazon Best Seller:
"Ultimate Marketing Hacks: 241 Proven Marketing Hacks That Ignite Sales and Allow You to Dominate Your Competition"  
The Power of Setbacks is my latest book co-authored with my wife Karen and published by Morgan James Publishing is an inspirational journey highlighting our family's struggle with cancer and how it unexpectedly led to an amazing new life. It's all about the intersection of life and work, connecting with family, and redefining what really matters the most in life. The Power of Setbacks is filled with practical advice and insights on overcoming challenges, achieving your dreams, and creating your own successful online business.
Success in itself is a worthy pursuit; it is just that success is only one piece of the equation. We often mistakenly believe that by being successful, we will achieve happiness and fulfillment. But that couldn't be further from the truth. We discovered there is no exact correlation between success and feelings of happiness and fulfillment. They may come hand in hand, but then again, they may not.
Order "The Power of Setbacks" Online by clicking a store logo below or by visiting your local book store
My passion is teaching, writing, and helping others achieve their own success and dreams.   I have a fascination  with people who seem to do well in many areas of life, and do it over and over throughout their lives.  I am not taking anything away from those so called one hit wonders, or  anyone who has achieved their desired level of success for that matter, but I am fascinated by those that can replicate their success across various industries and areas of life.
I am driven by a few of life's key questions:  Why are some people so much happier and more successful than others?  Why do some people seem to see the  opportunity in challenges while others just see obstacles?  Why do so many people find themselves out of sync and stuck?  Why has mediocrity become a norm for so many?
No one sets a course for a life of mediocrity, but for most of the world it just slowly turns into a way of life.  Mediocrity it seems just simply creeps up on us over time.   Mediocrity is like a snowball rolling down a mountain, it starts out small and continues to grow as it heads down the mountain gaining more speed and size which each passing roll.  In some cases, the snowball gets so large that it can trigger an avalanche and the damage that occurs in its path can seem so severe that it can appear unrecoverable to most  in its wake.
Like the snowball, the small decision we make and fail to make every day accumulate, grow, and gain momentum until we find ourselves lost, unfulfilled, and smack dab in the middle of Mediocrityville.  The quality of your life will be greatly determined by the quality of the questions you ask!
This blog is dedicated to the journey of success and happiness.    Thank you for joining in the journey and sharing your time with me.
I look  forward to hearing your story.
Dennis Stemmle